Read on to hear the testimony of God working in two separate lives, joining them together, and growing them up to send them out. God gets the glory, for He is the Author behind it all!
I am a Ni-Vanuatu, born in 1976 and raised up on the island of Santo. I grew up in a family where my father was a catholic and my mother was part of the AOG denomination. I faced many challenges growing up, including my mother's death in 2002. The year 2002 was a chaotic, depressing period of time in my life where I had some big decisions to make about my life. Even though I came to know God around the year 1996 and was involved in various short term mission trips around the islands in Vanuatu since that time, it was during 2002 that I laid everything at Jesus' feet and began serving Him wholeheartedly. From 1997 until 2005, I served God by helping out various missionaries in the ministries that they were doing here in Vanuatu. In 2005 I got to know the Widup family and began helping them out in the ministry work they were doing. I also met Maxine that year, an unexpected encounter resulting in us being married in 2007. This period of 2005-2007 was another learning curve for me as I prepared for married life.
I was born in 1980 and grew up in Te Awamutu, a farming community in New Zealand. I was raised up in a Christian family, so from a young age I developed a relationship with God, which saw continual spiritual growth, particularly during my teenage years and beyond. After training and working as a kindergarten teacher, God called me to Vanuatu in 2005 where I spent two years working in partnership with a NGO from New Zealand and Vanuatu's Preschool Association. I was based in Luganville, Santo and spent 3-5 weeks at a time travelling out to various villages around the 4 Northern provinces training kindergarten teachers and helping them develop their kindergartens. It was during this time that I got to know the Widup family and Tony. At the end of 2006 I returned to New Zealand where God prepared me for the next part of the journey He had for me – marriage and ministry back in Vanuatu. God has taken me in various directions that I never had imagined going in.
We've been married for 15 years and have four sons, ages 12-3: Conner, Zachary, Keegan, and Xavier. God continues to be with us along this journey of marriage and parenthood. Our boys are different in personalities and bring us lots of joy. It is fun seeing each son as he develops through the various stages of childhood.
During 2020- mid-2022, we managed Up & Up Ministries from the in-field with the help of our teammates, the Nacisse family, while our team leaders, the Widups, were stuck overseas. This was a role we did not expect to be fulfilled for such a lengthy period, but it is what happened due to the covid pandemic around the world. God had it all under control, and we learned a lot in this position. During those 2 ½ years, we got to know two Ni-Vanuatu bible translators (Father Norman and Father Ishmael) and their families from the middle of Santo Island more as they came into town regularly to spend time through the internet working on various parts of the project with their counterpart in Australia. We continued to provide logistical support to two missionary linguist families on Mota Lava Island. On occasion, we provided accommodation for them to stay in Santo for a break and restocked supplies when they required them. We continued to manage Nabanga Christian Kindy and maintain the ministry base. Due to border restrictions, Grace Fellowship, the church group that meets regularly at the ministry base, saw more regular attendance than the usual transient community with various people traveling in and out of the country. It was exciting to see the fellowship grow in depth and intimacy.
In July 2022, Vanuatu's borders opened again, and the Widup family returned to the field. Since then, we returned to our traditional roles, saw our teammates (the Nacisse family) leave for their furlough to the USA, and welcomed Marcus and Sierra Widup and their family to the field team in Vanuatu. These past few years have been very different from what we imagined, but God has been faithful through it all.
We look forward to seeing what God has in store for us, the ministry, and the people of Vanuatu in the coming year.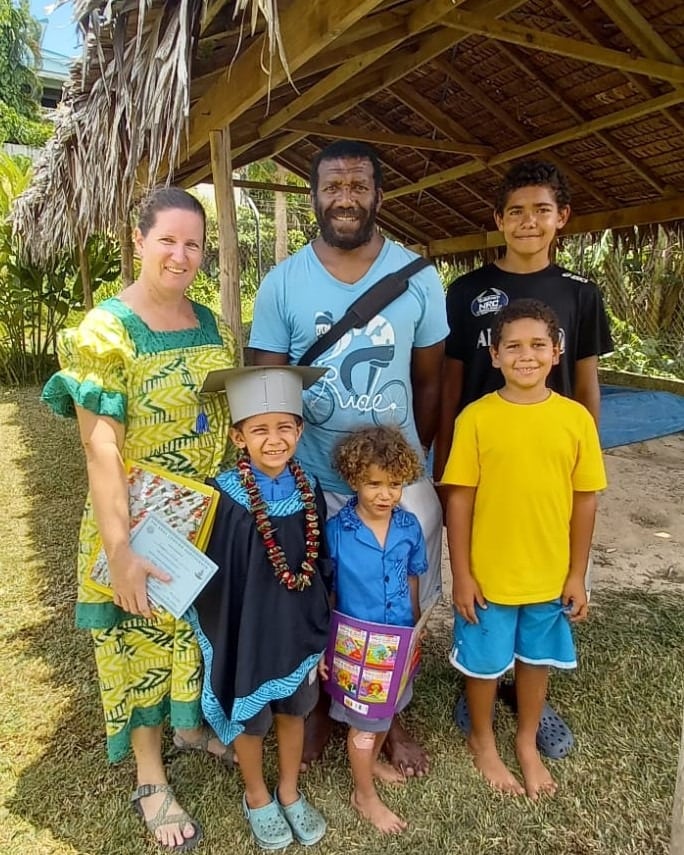 Stay updated by viewing our most recent newsletter!