Read on to hear the testimony of God working in two separate lives, joining them together, and growing them up to send them out. God gets the glory, for He is the Author behind it all!
I am a Ni-Vanuatu, born in 1976 and raised up on the island of Santo. I grew up in a family where my father was a catholic and my mother was part of the AOG denomination. I faced many challenges growing up, including my mother's death in 2002. The year 2002 was a chaotic, depressing period of time in my life where I had some big decisions to make about my life. Even though I came to know God around the year 1996 and was involved in various short term mission trips around the islands in Vanuatu since that time, it was during 2002 that I laid everything at Jesus' feet and began serving Him wholeheartedly. From 1997 until 2005, I served God by helping out various missionaries in the ministries that they were doing here in Vanuatu. In 2005 I got to know the Widup family and began helping them out in the ministry work they were doing. I also met Maxine that year, an unexpected encounter resulting in us being married in 2007. This period of 2005-2007 was another learning curve for me as I prepared for married life.
I was born in 1980 and grew up in Te Awamutu, a farming community in New Zealand. I was raised up in a Christian family, so from a young age I developed a relationship with God, which saw continual spiritual growth, particularly during my teenage years and beyond. After training and working as a kindergarten teacher, God called me to Vanuatu in 2005 where I spent two years working in partnership with a NGO from New Zealand and Vanuatu's Preschool Association. I was based in Luganville, Santo and spent 3-5 weeks at a time travelling out to various villages around the 4 Northern provinces training kindergarten teachers and helping them develop their kindergartens. It was during this time that I got to know the Widup family and Tony. At the end of 2006 I returned to New Zealand where God prepared me for the next part of the journey He had for me – marriage and ministry back in Vanuatu. God has taken me in various directions that I never had imagined going in.
We got married in 2007 and returned to Vanuatu soon after to live and begin the ministry God had in store for us, partnering with the Widup family under Up & Up Ministries to develop a Christian kindergarten (and later a primary school), providing training and discipleship to Ni-Vanuatu teachers. Tony also continues to serve the Ni-Vanuatu through various other projects under Up & Up Ministries. It has been challenging leading a missionary life, but God has been faithful to us providing for our needs exactly when we need it; no sooner or later or too much or too small. Regardless of the varying challenges that we face at different times of each year, it is rewarding doing what God has called us to do.
We have been married for 11 years and have four sons, ages 10-1: Conner, Zachary, Keegan, and Xavier. God continues to be with us along this journey of marriage and parenthood. All our boys are different in personalities and bring us lots of joy. It is fun seeing each son as he develops through the different stages of childhood.
This past year has been filled with continuing to manage Nabanga Christian Kindy, we have found a teacher trainer for classes 1 & 2 of Nabanga Christian School, assisting in Up & Up Ministries' various programs, negotiating life and ministry in Vanuatu amidst covid-19 restrictions, and ministering during recovering from a catetory 5 cyclone. While there have been many challenges through all this, God is the one constant thing in our lives and ever-faithful to us.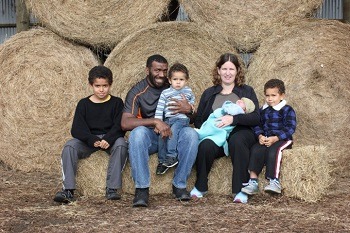 Stay updated by viewing our most recent newsletter!